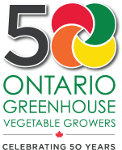 Production Reporting App for a Regulatory Agency
CUSTOM DATA COLLECTION AND REPORTING SOLUTION


 SOLUTION HIGHLIGHTS

Fully responsive custom-built web application
for mobile access
Designed to make the submission process
as straightforward as possible
On-demand report generation
BENEFITS
Reduced time to query data and assemble reports
Historical data comparison and analysis is now possible
Encourages members' participation so that more data
is available for forecasting purposes
Streamlined data submission-analysis-report process
Formed in 1967, the Ontario Greenhouse Vegetable Growers (OGVG) is a not-for-profit organization that represents over 200 producers of greenhouse tomatoes, cucumbers and peppers representing almost 2,900 acres of hydroponic greenhouse production in Ontario, Canada. OGVG lobbies and conducts research on behalf of the Ontario greenhouse growers and promotes their products through a variety of media.
As a part of their mandate, OGVG reports commodity supply forecasts to marketers on a weekly basis. It collects these data from growers' voluntarily submissions of their production estimates for the next four weeks.
Prior to the introduction of our Production Reporting App, the production estimates were gathered through the use of several spreadsheets. Each grower received a new spreadsheet to fill-out and email back every week. Once returned, the values were manually aggregated in another spreadsheet for reporting purposes. Some of the challenges that the client was facing included:
1. For growers, reporting in this manner was a tedious task (their previous submissions were saved elsewhere so finding those values required switching between multiple sources)
2. For OGVG staff, aggregating and analyzing the data was time-consuming
3. Historical and more complex data analysis was a non-trivial task
Dattivo delivered a fully responsive custom web application equally accessible from both mobile devices and desktop computers. Growers are now able to quickly and safely submit their production estimates, while also having an immediate summary of their previous submissions. On the other hand, OGVG staff are able to compile, manipulate and analyze the data in a streamlined manner. An admin interface allows staff to manage the growers' list and export reports with the click of a button. All growers in the database receive a customized link to access the system each week with an automatic reminder sent out partway through the week as well. In addition, the data is now stored in a single database for easy and customizable reporting.